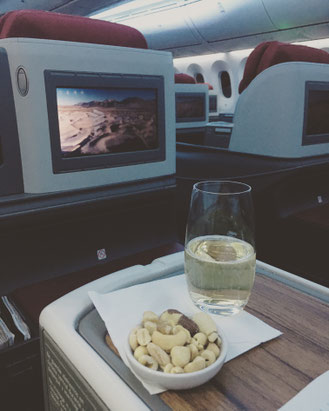 It was my first time, flying business class on a widebody jet. LATAM (former LAN Chile) operates a daily flight from Santiago de Chile via Madrid to Frankfurt and back. For only 200 Euros, you get a business ticket for the legs Frankfurt-Madrid-Frankfurt.

We were allowed to use the Air Canada Maple Leaf Lounge in Frankfurt. After a beer and some snacks for dinner, we went to the boarding gate, passed the waiting line of economy passengers and boarded our flight with no waiting. 
After having taken our seats, we got champagne as a welcome drink. While the economy passengers were busy for another 45 minutes getting on board, I already was 20 minutes into the movie on my inflight entertainment system and had spread my legs. Very comfortable!
The flight attendants took very well care of us. Also the dinner was delicious and upon arrival in Madird I was very very relaxed. I could have stayed aboard for the next flight to Santiago....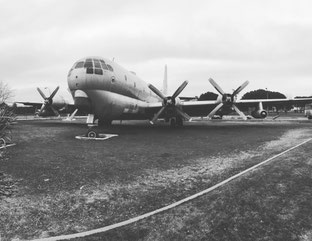 It was my second time in Madrid. Besides good food (tapas) and a visit of Toledo, I sure spent a day at Madird-Barajas Airport. Lots of carriers from south america can be seen here. Make sure to see the photo gallery (link below)!

Another great place to see is the "Museo del Aire", where you find hundreds of airframes including the Wright Flyer, WW I & II warbirds, a Boeing 727 as well as A KC-97 Stratotanker with two jet- and 4 prop-engines (see picture on the right). Definitely worth a visit for all aviation enhtusiasts.